See it in action:  Our  welders use our state-of-the-art fully automated 4-axis pipe cutting machine to fabricate pipe segment fittings from start to finish.
Why CNC Pipe & Tube Fabrication?
As the complexity of jobs continue to grow in scale and scope, so too do the demands of the piping involved. At the end of the day though – be it more straightforward work or highly intricate TKY joint fabrication – you want to be confident that your pipe fabrication not only keeps up with the challenges of today but will exceed expectations.
Modern construction projects require both flexibility and speed, more importantly though, they require the precision that only CNC pipe fabrication can offer.
Prefabricated equipment skids and modularized fabrication deliver increased adaptability and pace to your work and with manufacturing done in a controlled, safe environment you can rest assured that cold temperatures or inclement weather won't be an issue.
No matter the industry, the details matter and if piping and/or tubing is an integral part of the process, don't leave it to chance. CNC machining delivers consistent results and the peace of mind that allows you to focus on the bigger picture.






We specialize in intricate TKY joint fabrication.
Specialized in Intricate Welds like TKY Joint Fabrication
We take great pride in our expertise with TKY joint fabrication, among the most difficult joints to fit and weld, requiring essentially flawless execution to pass the American Welding Society's inspection.
Most often found in structural settings like bridges, trusses and offshore structures, these joints necessitate an incredibly high level of accuracy in the cut, particularly when a full penetration weld is needed. Moreover, the fitting – done by hand and being part of the process that lends itself to human error – demands perfect orientation that only years of experience can teach.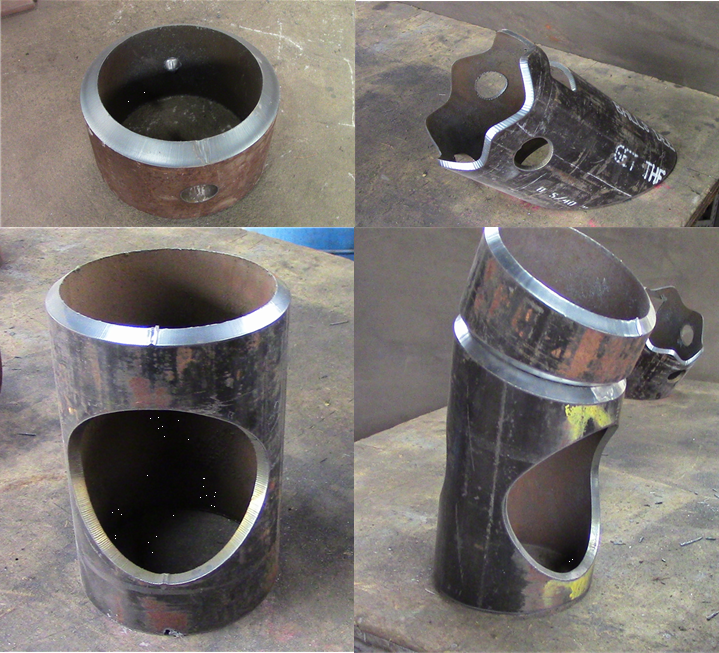 Cutting tubes and pipes is an integral part of any project, don't leave the process to chance or open to costly errors. 
Accommodating the Materials You Use Most
Precision is paramount but with the intricacy of builds today versatility is right up there with it.
In addition to being able to handle almost any type of pipe fabrication your plan demands, we can also accommodate the various metal piping and tubing materials you work with most frequently, ranging from carbon steel to stainless and most alloy metals. Because the last thing you want to have to do is add complications by outsourcing your pipe fabrication and keep tabs on multiple contractors to manage different materials.
If tubing and pipe fabrication are an essential part of your workflow, you don't want to leave the accuracy, efficiency and quality of any part of the operation in question.
CNC pipe fabrication gives you that and more, offering unparalleled agility and flexibility to streamline your process and get more done.
With fast track scheduling, we can begin scopes of work that the field isn't even ready for yet.
Call us today to learn more or request a quote.
Contact us today to find out more
Get in touch with us to find out more about our company and services.
Pipe Fabrication
Tube Fabrication
Pipe Profiling
Pipe Cutting
Tube Cutting
TKY Joints Fabrication
Pipe Miter Fabrication
Pipe Saddle Fabrication
Pipe Trusses
Tube Trusses
Truss Sections
Pressure Vessel Fabrication
Pressure Vessel Inspection
Pipe Welding
Tube Welding
Piping Design
Piping Stress Analysis
Piping Interface
Piping Material
Piping Layout
Facility 3D Laser Scanning
3D Modeling
New Installation Design
Contact us today to find out more
Get in touch with us to find out more about our company and services.
We serve the Midwest states, including Indiana, Illinois, Michigan, Iowa, Ohio, Missouri, Wisconsin, Kentucky & Minnesota.